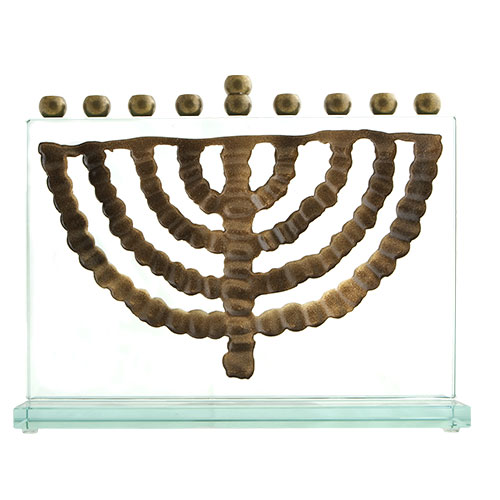 Glass Hanukkah Lamp
Inspired by a bronze menorah from a synagogue at Ein Gedi, 6th century CE
Out of stock
₪

1,599.00
Share
Share
This Hanukkah lamp is modeled on a menorah (seven-branched candelabrum) that was found near the niche containing the Torah Ark in an ancient synagogue in Ein Gedi. Unique in its design, it sports branches made of small spheres imitating the "calyxes and petals" of the Temple menorah. Along with other menorahs found in ancient synagogues inside and outside of Israel, it indicates that – despite the sages' ban on making Temple implements – seven-branched candelabra such as the one that stood in the Temple were used in the synagogue, both for symbolic purposes and as part of the ritual. Here it has been converted into the eight-branched candelabrum used during the festival of Hanukkah. 

The original menorah is in the collection of the Israel Antiquities Authority 

Top-quality products

Every gift tells a story

Money-back guarantee

Your satisfaction is our priority

International shipping

From Israel to you

Sorry, no results were found for your search.