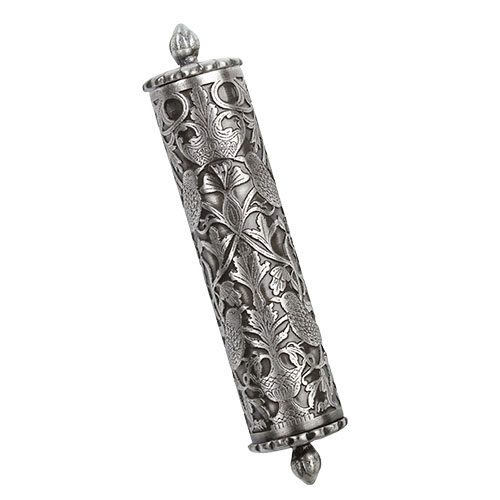 Mezuzah Case – Blackend Silver
Modeled after an Esther scroll case from Poland, mid-19th century
Share
Not only is affixing a mezuzah to one's doorpost a commandment (which appears twice in the Book of Deuteronomy), the mezuzah is also the first part of your home to catch the visitor's eye. It should therefore be special and reflect your taste.  

 The floral and bird motifs that adorn this mezuzah case were inspired by an Esther scroll case crafted in mid-19th-century Poland. The case is made of gilt silver, overlaid with cut silver in a lace-like pattern. This elegant design grants depth and color to an object traditionally offered as a gift to a groom. And indeed, the inscription engraved on the Esther scroll case indicates that it was presented to a groom as an engagement gift. 

 The original item is in the Israel Museum collection. 

Suitable for scroll up to 8 cm 

Top-quality products

Every gift tells a story

Money-back guarantee

Your satisfaction is our priority

International shipping

From Israel to you

Sorry, no results were found for your search.